Whore Of Babylon
Talk

2
420pages on
this wiki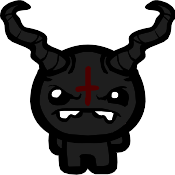 A black crescent moon and star with a red outline.
If you have a half-heart left, a message reading "What a horrible night to have a curse..." appears on the screen and the player becomes the Whore of Babylon. This increases Isaac's damage by three and speed by two and he will stay in that form until leaving a room with more than a half-heart (soul hearts do not count). When the player enters a room with the item's effect already activated, the damage increase is slightly less than when it is triggered.
If ??? picks this up, he permanently gains its effects upon leaving the room for the remainder of the game.
Whore of Babylon and similar items are damage multipliers.
Interactions
Edit
When activated while the player has Fate, the Holy Grail, or the Bible activated, the wings turn black.
Synergies
Edit
Guppy's Paw - Helps the player to reduce the amount of normal health to increase the chance to trigger the transformation.
IV Bag,Razor Blade,Blood Rights or Kamikaze - These items require a health payment in order to be used, thus helping the player trigger Whore Of Babylon more often while also preserving soul hearts.
Dead Bird - The bird will not spawn if you are falling directly to a half-heart from one heart or one and a half hearts.
The message that is displayed when the item takes effect is a reference to Castlevania 2: Simon's Quest.
The symbol is the same as the Curse Room symbol, as shown on the minimap.
When Using ???, if you have The Whore Of Babylon item and you beat The Chest, it is counted as if you finished it with Eve.
It is possible to find The Whore of Babylon in the Shop. It will appear with two hearts below it in place of a monetary price, as if in a Devil Room, but picking it up will not actually cost you heart containers.