This is my diary, made by TimeClocky. (PLEASE DON'T CHANGE ANYTHING!!!)
January 3rd, 2014
Oh boy, im feeling im getting addicted to Terraria. I havent played TBOI in a while. I have beaten the Eye of Cthulhu about 30 minutes ago. Im playing for almost the whole day... O_o
January 2nd, 2014
I finally noticed what i got Terraria as a gift on Steam! Oh, and i actually got VVVVVV and a TBOI emote earlierm, got them both for free on a I Wanna Be The Guy chat on twitch.tv, just like Terraria! Im lovin' it.
January 1st, 2014
A new year has been begun! Sadly, not everyone is talking about 2014... Anyways, lets see what will happen now and 2014! I hope it's better then 2013.
December 31th, 2013
Its the last day of the year! I can't wait what will happen in the next 24 hours. Ill be forward what will happen today. Any moment now... But, HAPPY NEW YEAR!
December 30th, 2013 It's almost New Year! Can't wait. Right now i just played Isaac, today is the time going REALLY fast. On my Isaac run i got Dr. Fetus, Guppy, Bobby-Bomb and Mr. Mega. I also got some familiars towards my run (didnt actually need them... but i still took them.) and 2 Little C.H.A.D's! Nothing special about it, it just acted like 1. Can't wait what will happen today and tomorrow!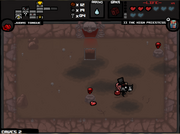 Ad blocker interference detected!
Wikia is a free-to-use site that makes money from advertising. We have a modified experience for viewers using ad blockers

Wikia is not accessible if you've made further modifications. Remove the custom ad blocker rule(s) and the page will load as expected.