Updates
Talk

2
420pages on
this wiki
Official patch notes given by the designer of the game, Edmund McMillen.
Wrath Of The Lamb 1.48
Edit
Wrath of the Lamb v1.48 update notes:
-Super secret rooms are back!
-Greed + greed heads no longer take coins when touching them while invincible.
-Bum friend bug fixed
-bobs rotten head luck removed
-animations tweaked a bit
-RANDOM button on character select screen (Yay!!)
-other minor fixes and edits!
[BUGS] (add onto if you find any)
For some, the unlockables "Cain's Eye", "Eve's Bird Foot", "Samson's Lock" and "The Left Hand" do not properly save and are lost when the game exits. Upon restart, the stats page will show 93/97, making Platinum God impossible to achieve. This happens on Mac OS and Windows.
Killing War's horse with a poison while he is in the air throwing bombs will leave him there, making you unable to finish the match.
Making a deal with the devil to remove your last heart while you have soul hearts will remove the soul hearts aswell. When this occurs your life becomes -1 and you must aquire 2 health ups before you gain a red heart, after that you gain health as normal. \\ This is not accurate from my experience. If one spends all of one's normal hearts in a deal with the devil WITHOUT exceeding one's total normal hearts, the soul hearts will remain. Unknown if this is a bug or intentional - the excess heart taken effectively puts you in "debt" with the devil.
Numerous Familiars clashing with each other. For example picking up Holy Water while nearly any given familiar is equipped, will turn it into Brother Bobby.
Completing the Chest using Eve unlocks "???'s Soul" instead of "Eve's Bird Foot"
Sometimes when fighting Conquest in the Depths/Necropolis, in the "Isaac vs Boss" screen it will show War instead of Conquest.
The "3 Dollar Bill" will sometimes add the effect of "Magnet" instead of a tear effect
If you get killed by one of Peep's eyes, it'll say that a fly killed you.
Wrath Of The Lamb 1.45
Edit
-fixed "other" invincibility bug
-raised music/sfx quality
-refixed secret rooms blocking off areas
-refixed placement of old secret rooms
-fixed "secret chapter" secret rooms.
-fixed normal rooms appearing in secret rooms in xl floors
-lots more little tweaks and fixes
-more mini bosses
-added Wrath the Lamb bosses to credits
[BUGS]
-added bug/error where loading times between stages are sometimes much longer
-added bug/error where the top secret room no longer spawns
-general bugs with achievements still appearing (eg: clearing The Chest with ??? gives "Samson's Lock" achievement)
Wrath Of The Lamb 1.4
Edit
[CONTENT]
-New alternate bosses added.
-Polaroid is now rewarded by defeating Mom in the Depths/ Necropolis 2 taking little damage.
-Credits have been fully updated.
[BUG FIXES]
-XL maps generating blocked off portions of the map is fixed
-Horsemen secret is now unlockable again. Platinum god should be attainable again.
-Knights AI fixed.
-Psy baby fixed
-Greed heads slightly nerfed
-Chocolate milk tweaked
-Samson slightly buffed
-Miscellaneous other fixes.
[BUGS]
The secret room generation is bugged up.
Wrath Of The Lamb 1.333
Edit
[CONTENT]
-Full soundtrack has been updated also adding 3 new tracks
[BUG FIXES]
-Invincibility glitch fixed
-Empty greed rooms fixed
-Ghost baby fixed
-Secret alt boss unlock fixed
-new Maps
Wrath of the Lamb 1.33
Edit
Update info:
-Mini bosses fixed
-frequency of rare new mini boss raised
-guppy/1up/etc items now fixed (dont spawn in same room)
-blood banks fixed
-sloth and flying babies fixed
-womb XL bug fixed
-devil room exit door teleport fixed
-new final boss music added
-ending 13 button added-other minor tweaks and fixes
-bug where player becomes invincible after taking a whole heart of damage with only half a heart remaining
Wrath of the Lamb 1.3
Edit
Update notes
-8 new unlockable items
-8 new achievements
-a new not-so-secret final chapter

-a new final ending
-3 new music tracks

-new mini boss
-golden poop!
-updated art, sound fx and other touch ups added/polished.
-Ending 12 and challenge 10 now unlock for everyone.
-Brimstone is back in working order
-Alt end boss active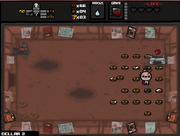 -Familiar conflicts fixed
-Angel Rooms have a door different than the devil rooms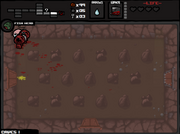 -item frequency has been fixed
-enemies have been rebalanced
-bosses have been rebalanced
-a "secret boss" now appears where intended
- Adds a Glitch with the IV Bag and Blood bank, If all hearts are given up, character will still survive and can continue obtaining money.
- There is another bug with devil rooms that appear after a boss. When leaving the devil room, the player will be brought back to the spawn room rather than back into the boss room.
- Adds bug where Ghost Baby's shots no longer penetrate obstacles (pretty much a Brother Bobby now)
- A new Ending has been added; (ATTENTION EXTREME SPOILER)
-The Achievement Glitch is still yet to be fixed
Wrath of the Lamb 1.2
Edit
Update notes
-Fixed missing sounds
-Balanced a few things
-Fixed the Milk bug
-Fixed item list issues
-Fixed spelunker hat
-Fixed missing ghost baby
-Added missing bosses
-Samson slightly buffed.
-Other minor tweaks, edits and balancing.
-Broke Brimstone
 
Wrath of the Lamb 1.15
Edit
Update notes
1. Rebalanced items appearing.
2. fixed a few minor graphics bugs
3. fixed a few item combo bugs
4. you can no longer fly out of some rooms.
5. Rebalanced damage multiplier items.
6. Rebalanced and fixed minor boss issues.
7. updated "i got killed by" icon list.
8. raised the quality of sounds and music
9. a handful of other minor tweaks and edits
10. raised frequency of some later bosses
Wrath of the Lamb 1.1
Edit
Update notes
-final game ending now plays at the correct time.
-bug where you get a dead end after killing mom in an XL chapter fixed
-items not showing they are unlocked after beating the game fixed
-music not playing in 5th chapters fixed
-Ghost isaac appearing when you find the small rock fixed(?)
-dollar bill changing into another item bug fixed
-Samsons name being even in death and boss intros fixed
-Challenge to main game exploit fixed
-Random character exploit fixed
-tech2 nerfed
-added extra digit to mom kills
Wrath of the Lamb - May 2012
Edit
New expanded content
Christmas Update - Christmas 2011
Edit
Added Krampus and Lump of Coal,40% Chance To Find Krampus In Devil Room.
Update 6 - November 7, 2011
Edit
Update notes:
-Fixed halloween save issues
-Fixed more bugs with brimstone
-Balanced some overpowered combos
-Added 2 new tracks to the games soundtrack
Update 5 - November 1, 2011
Edit
Update info:
-Fixed Final boss music bug
-Fixed Brimstone + tech/nail bug
-Fixed Mr. Boom's recharge bug
-Fixed Eves unlocking (now unlocked by meeting satan 2 times and getting 2 items from him)
-Added info subtext for all new items
Update 4 (Halloween) - October 31, 2011
Edit
Update Notes:
BIG HALLOWEEN UPDATE (with no actual lame halloween themes)
-Added chapter 5 (unlocked after 10 mom kills)
-Added 3+ new bosses
-Added 4 new enemies
-Added 20+ new items
-Added one new unlockable character (Eve)
-Added one new "FINAL" ending.
-Added 6+ new achievements
-Added 2 new music tracks
-Added updated collection viewer
-Added 4 new tarot cards (finishing the major arcana)

Fixes:
-lots of small bugs were fixed
-load time fixed
-a few minor item balances

Happy Halloween!
-Edmund
Update 3 - October 14, 2011
Edit
Update Notes:
-fixed bug leaving a room thru a broken door
-item pickup sounds now play properly
-save system improved
-fixed music bug with boss music/ambush room music
-removed a few exploits that break the game
-prepped the game for Halloween update coming on the 31st!
Update 2 - October 5, 2011
Edit
Update Notes:
-Fixed items not saving
-Fixed controls not saving
-Fixed Mom+monstro wall clipping issues
-Fixed control bug
-Updated all music files
-fixed minor sound issues
Update 1 - October 2, 2011
Edit
Update notes:
-Fixed wall clipping bug
-Upgraded game save so it wont be deleted by clean up tools
-Added options to the start screen
-Added control options within the options menu
-Added lefty support
-Added azerty keyboard options
-Fixed minor music issues
-Added more alt bosses.