Found under a normal Rock, the trapdoor room contains an item. It changes the orientation of the game to side-scrolling upon entry.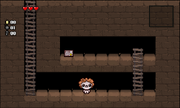 Rooms

Treasure Room ·

Shop ·

Secret Room ·
Arcade ·

Boss Room


Challenge Room ·
Devil Room ·
I AM ERROR
Rooms in the Wrath of the Lamb
Curse Room ·

Sacrifice Room ·
Super Secret Room


Boss Challenge Room ·

Library ·

Angel Room
Ad blocker interference detected!
Wikia is a free-to-use site that makes money from advertising. We have a modified experience for viewers using ad blockers

Wikia is not accessible if you've made further modifications. Remove the custom ad blocker rule(s) and the page will load as expected.