The Wretched
Talk

0
432pages on
this wiki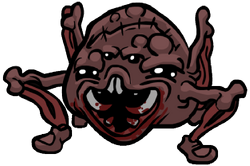 Official art by Edmund McMillen
The Wretched is the posthumous version of Widow, a boss added in Wrath of the Lamb. She can appear in the Catacombs and Necropolis. The Wretched is similar in appearance to Widow, however, she has a red tint, and the mouth at the top has been sewn shut in exchange for a grotesque, deformed one on the bottom.
The Wretched's attack patterns are similar to Widow's: She jumps towards Isaac, spawns spider-related monsters, and exudes white creep to slow Isaac down.
However, she does not spawn single spiders or cocoon like Widow. Instead she spawns a set of two spiders, a double spider, or a Trite. When she excretes her creep, a larger puddle is produced that takes up about a quarter of the floor, and she simultaneously fires white harmful shots in eight directions. Upon death she spawns 3 regular spiders.
While this boss has similar appearance and attacks to Widow, she is not an alternate boss, but a more advanced version of her, having a spider-like mouth underneath, with the original mouth on top sewn shut, similar to how Monstro II is a more advanced version of Monstro.
Prior to v1.2, The Wretched would occasionally appear in the Cellar, but nowhere else.
When coughing up spiders, The Wretched opens her top mouth, much like Widow.
This boss, like The Carrion Queen and Monstro II, is a posthumous Widow. As such, even though she was not listed as one of the female bosses when Edmund was asked about it, it is safe to assume she is female like her predecessor.
The wretched is supposedly a human flipped inside out, the top sewn shut is most likely where the she was once opened to be reversed, and it is also a theory that its teeth was once her rib-cage