REDIRECT Template:Infobox boss
The Hollow is the posthumous version of the boss Larry Jr. that spawns in the Catacombs.
Behavior
It consists of two enemies; each flies diagonally across the screen.
The movement of the boss resembles that of Fistula, though each segment can change the angle at which it bounces around the room, making dodging more difficult. The segments can be damaged and destroyed individually like with Larry Jr., which causes piercing tears to be very effective against him. If the room is filled with rocks, players may find themselves having a hard time dodging the Hollow, as the rocks will block player's movement (unless the player can fly), while the Hollow can fly over them.
Like with Larry Jr, each of the Hollow's segments are destroyed separately, therefore using The Necronomicon will instantly kill the Hollow.
The Hollow has a higher chance of appearing if you've killed Larry Jr before.
Champion Variants
Gold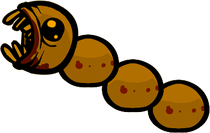 Each segment drops a coin when destroyed.
Black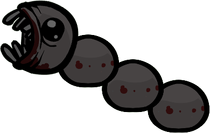 Each segment spawns a Boom Fly when destroyed.
Green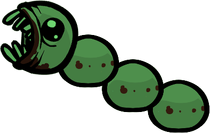 Shoots a row of three bullets as an additional attack. Each segments spawns a Charger when destroyed.
Gallery
Bugs
Sometimes, the green champion variant of The Hollow will use Larry Jr.'s head sprite when firing blood shots.

Similarly, the green champion variant of Larry Jr. will use The Hollow's head sprite when firing blood shots.

When the head of the Hollow spawns, the guts of a Host will be visible underneath, but will disappear after the smoke fades.
Videos