Caves
Talk

0
420pages on
this wiki
The Caves are the second environment the player encounters. It takes the shape of a brown stone cave.
This environment introduces pits and spikes. The player cannot move over pits without the Ladder, items that give him flight power, or bombing an adjacent rock to fill the hole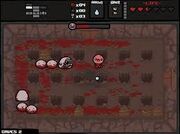 in. Spikes will damage the player if he moves over them, but not when flying.
Also, TNT barrels are found on this environment. These barrels explode if shot.
Bosses found in normal rooms
Edit
Blastocyst (embryo only)
Fistula (Multiple small and medium variations in the same room)