Ad blocker interference detected!
Wikia is a free-to-use site that makes money from advertising. We have a modified experience for viewers using ad blockers

Wikia is not accessible if you've made further modifications. Remove the custom ad blocker rule(s) and the page will load as expected.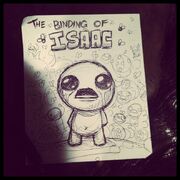 The Binding of Isaac Soundtrack album comprises of 40 tracks (Including those added in Wrath of the Lamb). It was composed by Danny Baranowsky (although The Clubbing of Isaac and Atempause were composed by Big Giant Circles and C418 respectively) and can be purchased from Danny's Bandcamp page or via Steam. It is worth noting that Bandcamp lets you name your own price (with a minimum price of $0.99 US dollars. The Bandcamp version is also available in multiple audio formats (MP3, FLAC, AAC, Ogg Vorbis or Apple Lossless) whereas the Steam version is only available in MP3 format. If you own the soundtrack via Steam, and if newer tracks are added later on, they will automatically download via update into the Binding of Isaac steamapps folder.
Track Listing
No.
Title
Length
Listen\Preview
1

Those Responsible

0:14

0pxembed/VJNQWpVf8Zgfalse

2

In The Beginning...

(Opening Cutscene)

2:22

0pxembed/zN4_9kZ53bofalse

3

The Binding of Isaac

(Title)

3:18

0pxembed/jBfom3wYOuYfalse

4

Unknown Depths Below

(Game Start)

0:06

0pxembed/HapnGxj5joofalse

5

Sacrificial

(Basement)

5:09

0pxembed/FwbK0Y1qnOYfalse

6

Conflicted

(Boss Intro)

0:08

0pxembed/PUotNxlI1dEfalse

7

Divine Combat

(Boss Battle/The Chest )

2:28

0pxembed/UaxjRoDrpusfalse

8

Pride

(Boss Defeated)

0:07

0pxembed/Tbg8B2lGjVUfalse

9

Peace Be With You

(After Boss)

2:10

0pxembed/v-LHc8Yhr3sfalse

10

Agony

(Between Stages)

0:12

0pxembed/OdB3HddwF0Ifalse

11

Repentant

(Caves)

5:22

0pxembed/07L4M_RWIgQfalse

12

Respite

2:05

0pxembed/8NXCHbzAXvwfalse

13

$4cR1f1c14|_

(Arcade)

5:01

0pxembed/p3Wm1hH5FFsfalse

14

Dreadful

5:02

0pxembed/6Y2A4kDq8nsfalse

15

Burning Ambush

2:24

embed/3D5W66u-XgIfalse

16

Greed

(Shop)

2:44

0pxembed/XbWDWoC6X4Ifalse

17

Thine Wrath...

(Vs Mom)

3:16

0pxembed/_q9ZC-UwViMfalse

18

Apostate

5:09

0pxembed/JcBtmCW1_ssfalse

19

Hereafter

(Game Over)

1:31

0pxembed/Hakc5uzSY4Afalse

20

Temptation

2:15

0pxembed/r6U3IrR0b3wfalse

21

The Pact

(Devil Item Get)

0:07

0pxembed/80Lu0Umk2k0false

22

...Be Done

(Vs Mom's Heart/It Lives)

2:02

0pxembed/Zj9Ck3mNP4ofalse

23

Absolution

(Epilogue)

0:46

0pxembed/p0QC_is8a4Qfalse

24

Ultimate Reward

(Ending Cutscene w/ Mom's Heart)

0:13

0pxembed/DSinYB94yXcfalse

25

End Times

(Credits)

1:55

0pxembed/l02S0ZiNt44false

26

In The Beginning...

(No Voiceover)

2:22

0pxembed/I1tktF_E5MUfalse

27

The Clubbing of Isaac

(Remix)

3:54

0pxembed/9GmDAj0nL8cfalse

28

Atempause

(Remix of Respite)

2:03

0pxembed/6AOVsSksNmIfalse

29

A Mourner Unto Sheol

(Sheol)

4:58

0pxembed/irnikRf7hEYfalse

30

Enmity of the Dark Lord

(Vs Satan)

3:07

0pxembed/PhMj9tMtRs8false

31

Penance

(Cellar)

5:25

0pxembed/Ey2TOGVZdlcfalse

32

Atonement

5:37

0pxembed/TnMV1yPi7Z0false

33

Latter Days

5:47

0pxembed/jmr1l130HOsfalse

34

Lament of the Angel

4:45

0pxembed/kB7z4eXt6z8false

35

Unholy Assault

(Super Deadly Sin)

2:53

0pxembed/Rnurn50PT5Mfalse

36

Crusade

(Wrath of the Lamb Boss)

2:24

0pxembed/PUJUFXtbLqUfalse

37

Serenity

1:57

0pxembed/G_SFouLA2qYfalse

38

Tomes

(Library/The End)

4:15

0pxembed/qFah9BL4Etgfalse

39

The Wages of Faith

2:15

0pxembed/ALC0sn9rSrofalse

40

My Innermost Apocalypse

5:01

0pxembed/H4noeZx9W6sfalse