Ad blocker interference detected!
Wikia is a free-to-use site that makes money from advertising. We have a modified experience for viewers using ad blockers

Wikia is not accessible if you've made further modifications. Remove the custom ad blocker rule(s) and the page will load as expected.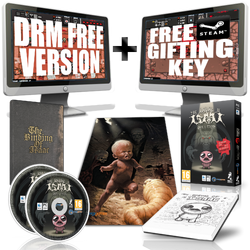 The Binding of Isaac: Unholy Edition[1] was released in the United Kingdom on March 16, 2012. It contains a DRM-free copy of the game, a Steam gifting key, a fan-art poster, and an Art Booklet, featuring various developer design sketches.
A new edition called The Binding of Isaac: Most Unholy Edition[2] was released in the United Kingdom on October 5, 2012. This edition includes all of the previous materials in the Unholy Edition, along with a new version of the game (v1.50), and all of the content from The Binding of Isaac: Wrath of the Lamb expansion. The game's soundtrack is also included as MP3 files on the game CD.
The full changelog of Version 1.50 can be found here.
Any in-game achievements unlocked in the PC version of the Unholy Edition will carry over to the Steam version on the same PC, and upon running the Steam version, they will be credited to your Steam account.
Gallery
References