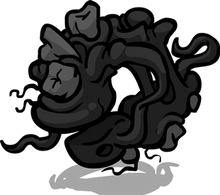 Offical artwork by Edmund McMillen
Attacks:

Contact damage
First part splits into 3 medium parts when damaged enough

Medium parts split into 2 smaller parts.
Smaller parts spawn Spiders after death
Teratoma is a boss that can be encountered in Wrath of the Lamb. It resembles a posthumous version of Fistula.
It acts like Fistula, but spawns 3 medium sections instead of 4. Teratoma also spawns small Spiders when the smallest part of it is destroyed. It is a boss in The Womb I and Utero I . In The Binding of Isaac: Rebirth, any room layout in the Catacombs and Necropolis that should contain Fistulas in WotL now contain Teratomas.
Be careful to not split off too many parts at once. This could impair your ability to dodge.
Anything that damages multiple enemies will help you speed up the battle (especially when a larger amount of sections are present on the screen)
In biology, a teratoma is a tumor like growth that contains normal tissue from each of three germ layers (like hair, teeth or even bones). Like Fistula, these medical facts reference to their appearance (note the bones around Teratoma).