Super Gluttony
Talk

4
420pages on
this wiki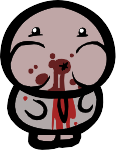 Attacks:

Shooting a blood beam left and right or up and down
Firing 8-way bulltes and spewing blood in Isaacs direction
Randomly encountered Super version of Gluttony, one of the Seven Deadly Sins. He has the same body as Double Vis (amusingly, the body is a different color than the head), and his cheeks are swollen (with what is presumably blood leaking out of his mouth).
It attacks similarly to Double Vis by firing a blood laser from both its front and back ends. It also shoots blood in the cardinal and diagonal directions, and is able to fire blood in a cluster similar to one of Monstro's attacks.
Strategies
Edit
When he starts his "pop" attack, stay away from him. This will guarantee that the additional projectiles will not hit you. His dual-bloodbeam attack is also easily dodged by not aligning with him horizontally/vertically during the duration of the beam. While firing the beam, he will be completely helpless, thus making this the perfect time to attack him. Super Gluttony can drop a Bucket of Lard upon its defeat.
More than one Super Gluttony can be fought in the same room in the Womb (need confirmation about other locations, and whether 2 can be fought in mini-boss room).