Spikes
Talk

0
420pages on
this wiki
Spikes are a type of environment tile.
They can be walked over, but will hurt Isaac for a full heart when he touches them . The ability to fly makes them harmless. (Transcendence is one example.)
They are first encountered in rooms of The Caves and appear more frequently in The Womb (where they cost one heart on touch). Like Holes, they don't appear in Boss rooms.
Notably monsters are not invulnerable to spikes. They are equally affected like Isaac, which also means that flying/hovering enemies don't take any damage.
Walking over spikes in the sacrifice room will occasionally result in a random chest appearing. Flight will not nullify the spikes in this room, and it will cost a full heart.
Tips and Tricks
Edit
Pushing monsters into spikes: Except for Mulligans and Hives, monsters will evade spikes. They can be pushed into them by shooting tears, though. This allows killing Hosts even if they are covered beneath their skull. Since unlike Isaac monsters do not become invulnerable after taking damage, they will die very fast once they touch spikes. This is even encouraged through the design of rooms containing Dople.
Items on spikes: Sometimes, collectables might stop inside spikes. In this case if you don't have the Magneto, you can try walking narrowly past them. If you have some spare bombs, you can use them to push items off of the spikes.
Diagonal evasion: It should be noted that Isaac can walk diagonally past two diagonally arranged spiked tiles, which is important to know since players tend to think certain items or Beggar could not be reached without getting hurt. To walk past them unharmed, get as close to both spikes as possible (this way it's easier to see if you stand with equal distance to both tiles), and then walk through the corner of spiked tiles. To do that, hit the two accordant buttons for the diagonal walk simultaneously.

The same is possible for horizontal and vertical spaces as well. (check the video below)
Spikes have a different look in the womb, appearing to be crooked. Elsewhere, they are straight. This is entirely cosmetic and does not affect the behavior.
Slipping through spikes has been confirmed to not be a bug by Edmund.[1]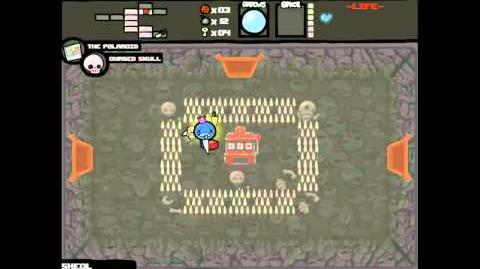 References
Edit