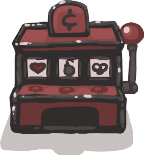 The Slot Machine is a randomly occuring bonus, similar to the Beggar in that the results are random. Using the Tarot Card "X Wheel of Fortune" will spawn a Slot Machine in the current room.
Walking up to the machine and bumping it will cost you one Penny, and roll the slots. You have no control over the results.
The symbols include pills, bombs, hearts, keys, coins, flies, and technically dollar bills. Getting 3 Flies will result in either you getting a Pretty Fly or a black enemy fly being spawned in the room from the machine. Getting 3 Dollars (The symbol can't show up in other rolls, but the reels show it before the machine is destroyed) will make the machine self-destruct and produce a Dollar, a collectible that sets your money to 99 cents.
It is possible to find bombs (regular, troll, or 1+1 free), hearts (half heart, full heart, or soul heart), keys (normal or golden), coins (penny or nickle), pills (any color), flies (Pretty Fly or black enemy fly), and dollar bill. Coins, Hearts and Bombs can all appear two at a time.
If the Slot Machine is caught in an explosion of any kind, it will be destroyed, dropping several items such as bombs, coins, keys, pills, hearts, or even gold chests.
Probabilities
Item(s)
Odds
Percent
Notes
Nothing
109/200
54.5%
1 Penny
25/200
12.5%
2 Pennies
9/200
4.5%
1 Heart
9/200
4.5%
1 Half Heart
8/200
4%
1 Key
5/200
2.5%
Black Fly Enemy
5/200
2.5%
1 Soul Heart
5/200
2.5%
1 Bomb
4/200
2%
Pretty Fly
3/200
1.5%
Does nothing if you already have 3 orbitals (Pretty Fly, Halo of Flies, or Guardian Angel)
White Pill
3/200
1.5%
Troll Bomb
2/200
1%
Super Troll Bomb
Blue/White Pill
2/200
1%
Explosion
2/200
1%
Machine is destroyed leaving a few items. This shoves you away from the machine if you are standing very close to it.
1+1 Free
1/200
0.5%
1 Nickle
1/200
0.5%
Red/Blood-Scratch Pill
1/200
0.5%
1 Penny & 1 Nickle
1/200
0.5%
A Dollar
1/200
0.5%
Sets money to 99c and causes the machine to explode.
Eternal Heart
1/2000
0.01%
Note that these are approximate and determined by community play-testing.