Sheol
Talk

8
420pages on
this wiki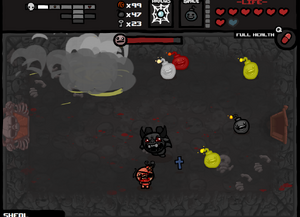 Sheol, (pronounced "shee-ohl"), is a level that was added in the Halloween Update. The walls appear to be the same material found in the Devil Room, most likely a reference to the name of the level, meaning "underworld" in Hebrew. Unlike other chapters, Sheol only has one floor, with Satan as the boss.
Like in The Womb, many rooms contain past bosses, but now the bosses are also drawn from The Depths and Womb, as well as Harbingers. Like in The Womb, there are even duplicate bosses, although they are more common now (Especially Loki and Gemini). In addition to duplicates of Sins, Sins accompained by other enemies, or even duplicates of Sins with other enemies, are common.
Challenge Rooms are the only unique rooms in Sheol. They usually consist of three boss fights in a row, but can give the same monster spawn patterns as The Womb[1].
Sheol can be accessed early if a Devil/Angel room spawns after killing Mom's Heart. You will unlock both the ending and the appropriate item when you enter the devil room. By ending the boss fight with full health, this chance is increased substantially, though a devil room is not guaranteed. Sheol can also be accessed through the Angel Room, by using We Need To Go Deeper!, using the joker card or teleporting to the Error Room from Womb 2, regardless of whether Mom's Heart has been killed before. After defeating It Lives for the first time, access to Sheol is guaranteed for future games.
Bosses and variations encountered in normal rooms
Edit
Sheol is translated in Hebrew to "abode of the dead". It is known as the Jewish Underworld.
A Chapter label called "Hell" can be found in the game files. This most likely represents a form of Sheol during earlier developement.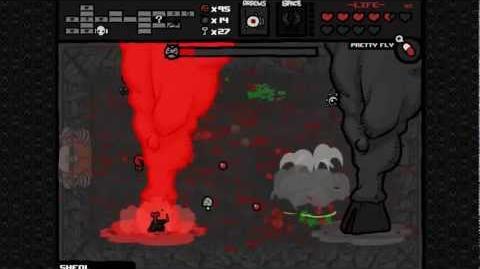 References
Edit