Scolex
Talk

0
420pages on
this wiki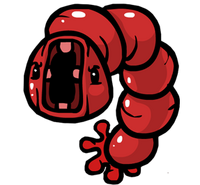 Offical artwork by Edmund McMillen
Attacks:

Dives (contact damage)
Blood shots
Explosive shots
Scolex is a large red tapeworm boss which can be found in the first level of The Womb. It is the posthumous version of Pin.
Its method of attack is to stay burrowed beneath the room and then leap across at the player in an arc. Scolex's weak point is his blinking end of his tail, which can be targeted while he performs his leaping attack.
Scolex will also sometimes poke a part of his body out of the ground, exposing either his head or his tail. If it's his head, he will fire 3 poison bombs at the player and dive back into the ground. If it's his tail, he will fire a volley of projectiles at the player, but also make himself vulnerable during this attack.
Scolex is hard to hit, but has the lowest health of all bosses in the game. If his tail is hit by a Monstro summoned using Monstro's tooth, he will go down immediately. A perfectly timed bomb can also defeat Scolex in one hit. With "Brimstone", you can kill him with 2 or 3 attacks anywhere. Your tears deal more damage to his tail if he is leaping across the room, while being able to take more punishment when he expose his tail to attack (most probably due to balance).
As of Wrath of the Lamb, Scolex's health was significiantly buffed.
Should you end up dying on Scolex, the game will freeze and will cause you to restart the game (which won't happen often, as he's easily dealt with). Hopefully, a fix will take place soon enough.
Another bug which is known is that sometimes when Scolex fires the poison bombs, one of the explosions can freeze and can be pushed around like a troll bomb. When touching a frozen explosion, the player won't take any damage.
When you use Bob's Rotten Head against him, poison clouds appear randomly around the level, but these are visual only. Once you kill him, leaving the room and entering it again will have an activated bomb (NOT a troll bomb, seems dropped by the player) where the poison cloud last was.
If Gish hits Scolex and slows him and he jumps while still slowed, he will not move, landing where he jumped. The same thing happens if Scolex (or Pin) is frozen by Spider's Bite.
If you have a 1up, instead of respawning, the game will freeze, and you will still have to restart, making it useless against Scolex.
In the credits, Scolex's texture shifts between Pin's texture and his own.
Scolex is most likely heavily inspired by the Lanmola boss from The Legend of Zelda: A Link to the Past.
You can 1-hit kill scolex with a bomb.