Sacrifice Room
Talk

5
420pages on
this wiki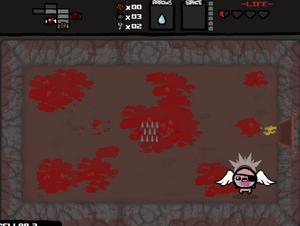 The Sacrifice Room is a special room, added in the Wrath of the Lamb expansion. It is a room with the same backdrop as The Depths, but with numerous pools of blood scattered around. In the center of the room, there is a spike tile. Touching it makes you lose a whole heart, taking soul hearts first. If you walk over the spikes enough times (average 4), a random chest will appear (normal, golden, or rarely, red). The room will automatically reward the chest if the spikes reduce the player to one half of one heart. The icon on the minimap is a blood stain. It will kill, so using it with only one heart will result in game over.
Only one chest will be rewarded per sacrifce room.
Even if the player is flying, they will lose hearts when passing over the spikes.
Using items like Book Of Shadows, My Little Unicorn, or The Gamekid when passing over the spikes will render the player invulnerable to the spikes and immediately spawn the chest, regardless of the player's current health. Using the brief invulnerability that occurs upon taking damage to walk over the spikes, such as through the use of the IV Bag, will not result in the chest spawning, nor will flying over the spikes during the temporary invulnerability gained from the spacebar functionality of the Pony.
??? is treated normally when using this (unlike other rooms/items that consider him always at half a heart).
In The Womb and Utero, the spike tile's appearance changes to match the spikes found on the same floor.
Sacrifice rooms are more likely to be spawned if the player has full hp (soul hearts will add up as well).
Rooms
Treasure Room ·

Shop ·

Secret Room ·

Arcade ·

Boss Room


Challenge Room ·

Devil Room ·

I AM ERROR
Rooms in the Wrath of the Lamb

Curse Room ·

Sacrifice Room ·

Super Secret Room


Boss Challenge Room ·

Library ·

Angel Room