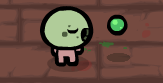 In The Binding of Isaac, there are eight items that can poison enemies.
A poisoned enemy takes a set number of damage over a certain amount of time.
Items
Each Poison item deals a varying amount of damage over a set time period.
Item
Icon
Poison Damage
Ticks (Per hit of poison damage)
Total Damage
The Common Cold

2 damage
3
6 damage
The Virus
 

3.5 damage
3

10.5 damage

(+30 damage upon contact)

The Bean

3.5 damage
10

35 damage.

(+5 damage upon use)

Bad Gas Pill

3.5 damage
10

35 damage.

(+5 damage upon use)

The Black Bean

3.5 damage
10

35 damage

(+5 damage upon contact, in a small area around Isaac)

Pinky Eye

4 damage
3

12 damage

IPECAC

7 damage
1
7 damage
Bob's Curse

7 damage
7

49 damage

(+60 flat bomb damage)

Bob's Rotten Head

7 damage
15

105 damage

(+Variable explosion damage depending on the Damage stat)
Notes
Isaac's base tears (without any damage modifiers) deal 3.5 damage per hit. Therefore, the average tick of poison damage does damage equivalent to one tear or above.
Ad blocker interference detected!
Wikia is a free-to-use site that makes money from advertising. We have a modified experience for viewers using ad blockers

Wikia is not accessible if you've made further modifications. Remove the custom ad blocker rule(s) and the page will load as expected.