Mom's Contacts
Talk

0
420pages on
this wiki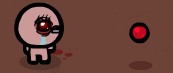 Collection Grid:
(A,10,11)
Unlocked By:
Collect Mom's Eye and any other Mom item in one run.
Grants Isaac a petrifying shot that will randomly freeze enemies solid for 2.5 seconds and turns tears bright red.

If the body of a Mr. Maw enemy is frozen when the head launched, the head will detach but then reattaches when the body is unfrozen.

The freezing effect will not work on Mom, but it will work on It Lives and invulnerable enemies (Statues in The Depths, Knights attacked from the front, etc).
Interactions
Edit
Synergies
Edit
Any item that increases Isaac's rate of fire (e.g. Thin Odd Mushroom ) will synergise well with this item, as every projectile fired gives a chance of freezing the target.
If you have Mr. Mega and obtain Mom's Contacts the contact will be slightly off center.

Added by

James Gleason