Mom's Contacts
Talk

0
434pages on
this wiki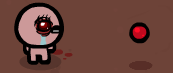 Collection Grid:
(A,10,11)
Unlocked By:
Collect Mom's Eye and any other Mom item in one run.
A pink eye with a red pupil and a small red light.
Grants Isaac a petrifying shot that will randomly freeze enemies solid for 2.5 seconds and turns tears bright red. Also increases Range by 2.75.
The freezing effect will not work on Mom, but it will work on It Lives and invulnerable enemies (Stone Grimaces, Knights attacked from the front, etc).
Interactions
Edit
Synergies
Edit
Any item that increases Isaac's rate of fire (e.g. Thin Odd Mushroom ) will synergise well with this item, as every projectile fired gives a chance of freezing the target.

Technology 2 - Due to its extremely high rate of fire, Technology 2 can allow you to pretrify most bosses/enemies almost permanently.
Unlocking Mom's Contacts
Edit
Order in which items are picked up doesn't matter (e.g. heels + eye also counts).
If you have Mom's Bra/Mom's Pad, then change it to another Activated Collectible, and then collect Mom's Eye, it will unlock mom's contacts as well.
The name and effect are probably a reference to Mom having an 'icy glare', that paralyses Isaac when she looks at him.
It could also be a reference to the mythical creature Medusa, seeing as how enemies are frozen in grey (as if turned to stone) and make a crumbling sound when killed in this state. The Medusa comparison could also be a reference to Issac's mom being extremely ugly.
If the body of a Mr. Maw enemy is frozen when the head launched, the head will detach but then reattach when the body is unfrozen.
Related Achievements
Edit

"Mom's Contacts" - Collect Mom's Eye and any other Mom item in the same run.