A brown wig with several spiders on it. Mom's Wig is a passive item introduced inThe Binding of Isaac: Rebirth.
Effects
Isaac wears Mom's Wig.
As Isaac keeps shooting, there is a chance to spawn a blue spider. Up to 5 spiders can be spawn by this item at the same time.
Notes
The chance of spawning spiders depends on the Luck stat, and is really low on itself : One spider is usually spawned between 30 seconds and 1 minute of constant shooting.
However, the chance goes up to 100% with 10 Luck.
Synergies
The Ludovico Technique - Every frame might trigger the effect of Mom's Wig if the tear is being moved, therefore 5 spiders are spawned almost instantly.
Hive Mind - Allow Mom's Wig to spawn up to 10 spiders instead of 5, while also retains doubled damage.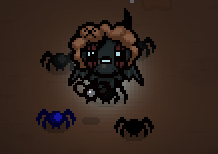 Ad blocker interference detected!
Wikia is a free-to-use site that makes money from advertising. We have a modified experience for viewers using ad blockers

Wikia is not accessible if you've made further modifications. Remove the custom ad blocker rule(s) and the page will load as expected.