Mama Guts is a monster first added in the Wrath of the Lamb expansion, and also return in the Rebirth remake. They first appear in Chapter 4.
It appears as a large blob of internal organs, much larger than regular Guts.
Behavior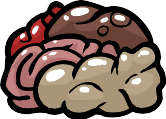 Instead of attaching to an object, they slowly move around the room, eventually firing 8 large blood shots. Killing it will cause it to split into 2 Guts.
Notes
Trivia
From the original game, they can be found in Necropolis. They no longer appear in this chapter from Rebirth, however.
Ad blocker interference detected!
Wikia is a free-to-use site that makes money from advertising. We have a modified experience for viewers using ad blockers

Wikia is not accessible if you've made further modifications. Remove the custom ad blocker rule(s) and the page will load as expected.