Maggot
Talk

0
420pages on
this wiki

Maggots are a type of monster in the game, only encountered in The Caves or Catacombs. As their name suggests, they're blind, white insect maggots, which lack any appendages and can only crawl slowly around the room in cardinal directions. Because they don't follow Isaac and move very slowly, it is easy to avoid them. Maggots are thus only dangerous in great numbers and enclosed areas, where it can be difficult shooting at them safely without running into them.
Champion Varieties
Edit

Chargers are a more advanced form of Maggot, and they're encountered more often as well, present on The Caves, The Catacombs and The Depths. They possess a smiling face of sorts, and look quite harmless as they slowly crawl along without attempting to follow Isaac. However, once they are directly aligned with the player they will open their mouth, revealing a row of sharp, pointed teeth and charge in a straight line, their speed doubling or even tripling during this charge, exceeding that of most players. Because they're always encountered in groups of at least four, avoiding them quickly becomes a problem.
Chargers can be spawned by Chub, Sloth, Pestilence and Fistula (only upon destruction of smallest parts). They are also spawned upon destruction of the green champion version of The Hollow's body segments. 
Sometimes they get stuck in gaps until the player comes too close and lets them charge.
If the player avoids moving once entering a new room, the chargers may not perform their charge even if they get a clear line-of-sight.
Champion Varieties
Edit

Spitties are much fatter than other maggot forms, and also possess a face like Chargers, and have the same health as them. Instead of rapidly attacking the player in their line of sight, however, they will simply spit out a shot ahead of them (or, very rarely, behind them) while crawling along slowly. They have good range but slow firing rate, and because they're not aimed at anything, the player is very unlikely to get hit. Beware that in spite of their weak appearance, spitties will deal a full heart of damage on touch.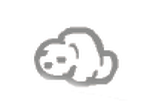 Spitties can be spawned by Pestilence, the Yellow Champion Version of Chub, and Mom.  
Champion Varieties
Edit