Krampus
Talk

2
420pages on
this wiki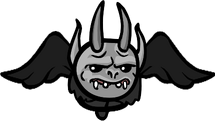 Attacks:

shoots Blood Beams in a cross pattern

shoots 3 and then 4 bullets in sequence
Krampus is the mini boss added to the game during the Christmas update. He randomly appears in the Devil Room instead of regular offers from Satan. He is considered as an alternate version of The Fallen.
Behaviour
Edit
Krampus' main attack consists of spitting two salvos of bullets, one with 3 and the other with 4 bullets. If Isaac aligns himself vertically or horizontally with Krampus, he will react by quickly shooting up blood beams in all four cardinal directions (similar to The Fallen's attack).
Keep your distance from Krampus. This will help you to better dodge his bullets.
Try not to align with him in a cardinal direction. If you have to cross Krampus' line of sight, do it as quickly as possible.
Angling your shots can help to deal additional damage during the blood beam.
While spewing blood Krampus is immobile, which means that he's the perfect target for a well placed bomb.
After defeating Krampus, he drops the item A Lump of Coal and a random pickup may spawn (like when finishing a normal room).
While Krampus hijacks the Devil Room if one was meant to spawn, he doesn't necessarily follow the Devil Room spawning rules. A savvy player can thus predict a Krampus fight if the Devil Room door spawns when it would be highly unlikely for it to do so, say, after having visited a Devil Room in the previous floor.
It is worth mentioning using the The Dice will change the Lump of Coal into an item found in a Devil Room.
Likewise, if a golden Chest is spawned, the item it might contain will be a devil room item.
Note that any of the devil room's items found this way will not cost you any hearts.
Krampus logically cannot appear in the Angel Room
Krampus is a mythological creature from the Alps, believed to punish or warn children who have been naughty; hence the lump of coal.
An item that looks like a wooden mask was originally supposed to be the item dropped after defeating Krampus.
When killed by Krampus, it instead will display the drawing of The Fallen on the death note.