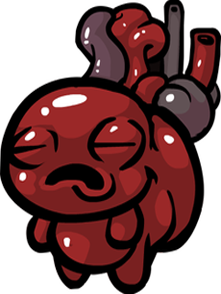 It Lives is a more powerful version of Mom's Heart, which willl replace the Heart permanently following its unlock after completing the 9th playthrough.
Behavior
Much like the Heart, It Lives spawns numerous enemies, however many of these are bosses.
The enemies spawned by It Lives are, at random:
Bosses Spawned by It Lives will be spawned in order the first time, with Monstro being first, followed by Larry Jr., the Duke of Flies and finally Chub.
*Any normal enemy may randomly be replaced by one of its counterparts, including kamikaze leeches, holy leeches, bloodshot eyes, spits and selfless knight variants respectively.
Killing him for the first time unlocks the character "???", and the floor Sheol, otherwise accessed from the Devil Room. Accessing the Sheol devil room requires meeting the same criteria that spawns regular devil rooms.
Strategy for defeating It Lives is generally the same as defeating Mom's Heart, though it is advised to focus on dealing damage to It Lives whenever possible as avoiding a single boss such as Chub while fighting It Lives tends to be simpler than keeping up with the constant inflow of enemies and bosses.
Notes
Just as with Mom and Mom's Heart, It Lives can be instantly killed by using The Bible item.
Defeating this boss in future runs will no longer produce the golden chest for completing this game, instead requiring you to complete either of the following "final" floors to win instead.
Gallery
Triva
Edmund has confirmed that It Lives is in fact Isaac in his mother's womb.
The portrait and name were added in the Wrath of the Lamb expansion. Before this the name was still Mom's Heart and the portrait was the same as Mom's Heart.
Videos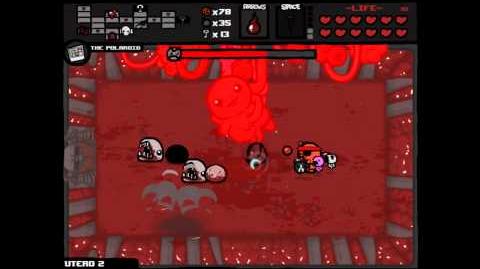 LEGENDS: The Binding of Isaac bosses are

yellow.

Wrath of the Lamb bosses are

teal

. Rebirth bosses are

orange.

Afterbirth bosses are

crimson

. Afterbirth † bosses are

violet

.