Isaac (boss)
Talk

6
431pages on
this wiki

Attacks:

Randomly fires 12 high speed tears in a radial burst
Fires a single short ranged tear with varying sizes upon taking a hit

Attacks:

Fires 4 large, purple homing tears randomly
Fires a single short ranged tears upon taking a hit, less frequently than phase 1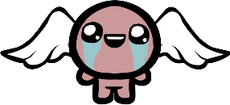 For information on the character, see Isaac.
Isaac is a new Boss added with the Wrath of the Lamb DLC. He is the game's main character as the final, fixed boss of The Cathedral.
Behavior
Phase 1
Isaac will appear lying down in the center of the room, crying on the floor. He shoots 12 high-velocity tears in a radial burst and will retaliate with streams of tears when hit.
Phase 2
At 66% of his health, a light will shine on Isaac, and he jumps from the ground. Isaac will then start shooting 4 large purple tears, which home slightly, in all directions. He will still retaliate with some tears when hit.
Phase 3
Triggered near 33% of Isaac's health. Isaac will grow angel wings, smile, and start floating. White beams will be randomly shot down from the sky (Similar to Crack The Sky and White Pony), Angel Babies will start spawning frequently (up to a maximum of 6), and the same homing projectiles from before will be shot in six directions at the same time. At this point, Isaac will no longer retaliate with tears when hit.
Notes
Gallery
Bugs
If the player uses The Hourglass, Isaac will fire blood tears instead of the usual blue tears and purple homing tears.
Trivia
The third form is referenced in the DLC's trailer, which showed Isaac sprouting wings.
When in Phase 1, Isaac makes the same weeping noises as the Mulligan.
When Isaac was first added in the initial release of Wrath of the Lamb, his third form only consisted of the rays of light, except with a tremendous rate of firing.
The picture of Isaac on Isaac's Last Will is identical to that of the Mulligan, but without the bloated head.
Videos