Host
Talk

0
420pages on
this wiki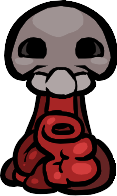 Hosts are enemy skulls lying on the ground that attack by rising up, revealing a fleshy stem, and firing a spread of three shots directly at your position, before going down again. These shots deal 1/2 heart of damage and have considerable range. The Hosts do not hurt Isaac by touch while they are on the ground, so it is safe to place a bomb near them or use The Virus. Hosts have relatively low health, only requiring five strength 2 tears to die. However, they only take damage when they rise up, and are invulnerable to all damage in their skull form, although sustained damage forces them to stay underground for longer.The only exceptions are being knocked into spikes, which kills them instantly, and the Dead Bird, which can damage the host while it is invulnerable, and eventually kill him. Using Bombs and other explosives on a lowered host only causes the skull to smirk at you. Tear effects such as Poison do trigger while it is invulnerable, but will not damage them unless they rise up.
They only rise up when they have orthogonal line-of-sight on the player. Therefore, staying diagonal to them or behind obstacles can be used as a tactic to avoid getting shot. Furthermore, if the player remains on that orthogonal vector, the host will not rise back up until the player approaches along a different vector. For example, moving to a host's left side will make it rise up and shoot; if the player still stays on the left, the host will not move, sometimes even after moving to a diagonal safe zone. It's only once the player moves to the host's up or down line-of-sight direction that it will rise up again.
Champion Varieties
Edit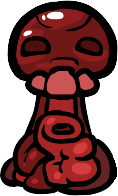 Another form of host, indicated by the red coloring of their head. They are not immune to damage when lowered, but to compensate, it fires a spread of five shots at a time, and does this more frequently. It is also more sensitive to player location, and may rise up and fire even if the player is moving on a diagonal line-of-sight.
Hosts are found from The Caves up to The Womb and, extremely rarely, in Sheol.
Champion Varieties
Edit
Hosts are from another game made by Edmund McMillen called Host.