Ad blocker interference detected!
Wikia is a free-to-use site that makes money from advertising. We have a modified experience for viewers using ad blockers

Wikia is not accessible if you've made further modifications. Remove the custom ad blocker rule(s) and the page will load as expected.
Hives are variants of the Mulligan with a large rotting head inhabited by flies appearing in both The Binding of Isaac and the Rebirth remake. They're fairly harmless but will spit out flies on occasion and release more on death. Hives are considered to be a weaker version of The Duke of Flies as they both spit out flies and do not directly attack the player.
Behavior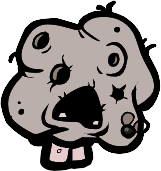 They act similar to Mulligans and Mulligoons, as they try to flee from the player. This frequently makes them run into dead ends or
fireplaces
. However, do not be fooled by their passive behavior; they will vomit flies if Isaac is in their line of sight. On death, they will spawn up to five
Attack Flies
,
Large Attack Flies
, or
Pooters
. Unlike Mulligans and Mulligoons, Hives do not randomly explode.
Strategy
The Hive's behavior gives the player the possibility to drive the Hives into edges or dead ends. If they are driven into corners or obstacles, it becomes much easier to kill them. They tend to vomit flies as Isaac are shooting at them, though, so be careful about that.
It is not recommended to charge tears if the player has picked up Chocolate Milk. Charge shots will likely hit any flies a Hive has just vomited up as a last-ditch effort, thereby wasting the time it took to charge the shot.
Trivia