Guts
Talk

0
420pages on
this wiki
Guts are a spherical enemy composed of a variety of internal organs. Guts usually appear in groups of four to six per room, and don't exactly "attack". They simply stick to surfaces like rocks, pit edges, and walls, then follow a path around them over and over. They have a moderate amount of health.
If you're dealing with Guts using a 3 or 4 cube Meat Boy, be warned that it, and other impacts, can "shove" a Guts onto a different surface, radically changing their path. This can cause you to take totally unexpected hits if you aren't careful.
Guts appear in The Depths and The Womb.
Champion Varieties
Edit
When they hit poop (by Larry Jr. or "The Poop") they stay on the same spot, if they are also stuck between two rocks.
Mama Guts
Edit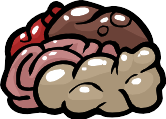 Mama Guts is a new enemy added in the expansion Wrath of the Lamb, it can be found in Necropolis and Utero.
It behaves the same as the MemBrain, but has more HP. Instead of splitting into two Brains, it splits into two Guts. The guts will normally start rolling towards their right or left.
If there are other guts in the room, it's better to dispose of them first, as the mama guts are predictable and easy to avoid.
Champion Varieties
Edit
There ARE red ones but no pictures have been taken yet.