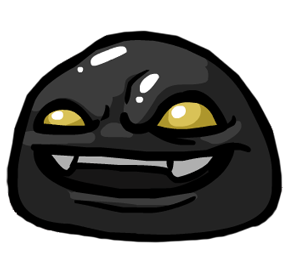 Gish is an
alternate boss
replacing
Monstro II
in the Depths.
Behavior
Gish's attack pattern is similar to that of Monstro II. However, instead of a blood beam, he attacks with exploding projectiles that leave behind puddles of tar that slow down the player. Instead of Monstro II's Sucker-spawning attack, Gish spawns two smaller Clots. Unlike with Monstro II, his first stomping attack does not produce any projectiles.
Gish is unlocked by clearing The Depths 30 times. Upon defeat, he will drop Little Gish if you do not already have it.
Trivia
Gish is a character from Edmund's game, Gish. Gish was also an unlockable in another of Edmund's games, Super Meat Boy.
Video
LEGENDS: The Binding of Isaac bosses are

yellow.

Wrath of the Lamb bosses are

teal

. Rebirth bosses are

orange.

Afterbirth bosses are

crimson

. Afterbirth † bosses are

violet

.