This article refers to the remake.

Fat Bats are chubby variants of One Tooth added to the Afterbirth DLC for The Binding of Isaac: Rebirth.
They first appear in Chapter 2.
Behavior
Fat Bats move slower than their normal variants but with higher health. They will shoot a bullet-shot at Isaac when he aligns diagonally. Fat Bats will also try to dodge Isaac's attacks.
Trivia
Fat Bat is the first Afterbirth enemy to be revealed during the DLC's development.[1]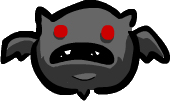 References