Eye
Talk

0
420pages on
this wiki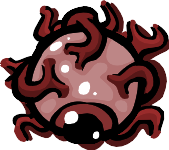 The
Eye
is a
monster
encountered in
The Womb
. They act as stationary turrets that shoot lasers similar to those of
Technology
, and follow the player and firing when you stop moving for a short time. To defeat it, circle around it while firing tears until it is defeated. As with all immobile enemies, bombs are also effective.
Up to three eyes will appear in a room, often near the center. They occasionally spawn in the corners, making them difficult to kill without taking damage.
Extremely dangerous when paired with Vis, since circle strafing will usually get you hit. Instead, try to change directions at the right moment when the eye charges, if a Vis is about to shoot its laser in your path. Bombs are also helpful, as both Vis and Eye stop to fire.
Champion Varieties
Edit
Bloodshot Eye
Edit
In Sheol, and on rare occasions in the womb, a variation appears which shoots a broad blood stream (Similar to Brimstone and Gluttony/Vis) instead of a laser. The bloodstream can also pass through walls. This variation can also appear in the womb as a champion form of normal eyes (even in the boss battle for the Womb 2).
Bug: In some cases the beam of the Sheol variants does not reach from corner to corner. This may be a graphical glitch. While the beam graphic does not reach the opposite corner, it will still deal damage as if it had, making hiding out of range of the beam futile.
Trivia
Eye is a reference to the Beamos, originating from The Legend of Zelda: A Link to the Past. Both normally are placed in the middle of a room from where they follow the player's movement to shoot them if they stand still for too long.
Eyes are also similar to an enemy from Super Meat Boy that behaves the same way, following the player and shooting lasers.