The Evil Twin is an alternate version of the Dople appearing in both The Binding of Isaac and the Rebirth remake. They can be found rarely in Chapter 4 but commonly in Sheol of Chapter 5.
During Chapter 4, it can replace the Dople.
Behavior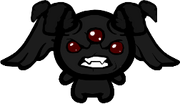 Evil Twins have flight, and thus, cannot be killed with
Spikes
. However, because it has
The Inner Eye
, its fire speed is slowed down sharply, making shooting at angles and dodging the upgraded Dople's attacks far easier than with the normal version.
Trivia
Ad blocker interference detected!
Wikia is a free-to-use site that makes money from advertising. We have a modified experience for viewers using ad blockers

Wikia is not accessible if you've made further modifications. Remove the custom ad blocker rule(s) and the page will load as expected.