Dr. Fetus
Talk

9
420pages on
this wiki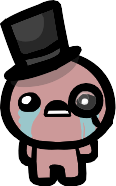 Unlocked By:
Complete the game five times.
A fetus in a jar.
Replaces Isaac's shot with a bomb. Only one bomb can be shot at a time, and it will slide a fixed range before exploding. The bomb slides over pits, although not through rocks, and can be pushed around. Bombs detonate faster as the Tears stat increases.
In the Wrath of the Lamb expansion, when combined with Mr. Mega the bombs gains the huge troll bomb look (cosmetic only).
Bobby-Bomb's and Mr. Mega's chances to appear are multiplied by 6 if Dr. Fetus has been collected.
Interactions
Edit
The bomb damage is not affected by the attack stat.
Synergies
Edit
Dr. Fetus looks similar to Dr. Fetus from Super Meat Boy.
After Globins collapse into a pile and then revive, the bombs will pass through them, making them much harder to hit.
May be unable to destroy Golden Poop
If the item is viewed in on the collection page, it will say " "(nothing), if it wasn't unlocked before picking it up the first time. (This is similar to a bug caused by the item <3. This can also happen, even if the item is already unlocked.

This also can happen when the small windowed is launched.