Devil Room
Talk

14
420pages on
this wiki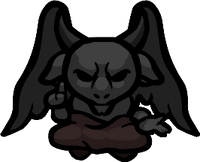 The Devil Room, in which you can "sell your soul" for special items, has a chance to appear after defeating a boss; the chance of it spawning increases if you don't take red heart damage at all in a full level, take no red heart damage at all in a boss fight, kill a Beggar, or acquire a demonic item. No key or coins are required to enter the room. The Devil Room may also be accessed via the Joker tarot card, or randomly with any teleport effect (Teleport! , Telepills or Red Chest), in which case your map will show only the Devil Room and you will exit into the starting room for that floor.
When in the room, you are given the option to collect up to two items; however, these items are not bought with money, but with Heart Containers and occasionally Soul Hearts. If you use the last of your Heart Containers to buy an item, you will die - unless you have a soul heart, in which case you will no longer be able to collect regular health until you obtain more Heart Containers (similar to ???).
Every item worth 1 Heart Container can alternatively appear for the price of 3 Soul Hearts.
When playing as ???, all items cost 3 Soul Hearts.
If you try to buy an item worth more Heart Containers than you have, and you have any Soul Hearts, you will still get it, but you will lose all of your Heart Containers and Soul Hearts. (Without any Soul Hearts, this will kill you.) The game will remember how many Heart Containers you should have lost, and you cannot gain any more (by any means) until you get enough health upgrades to pay the "debt". Taking any damage while stripped of health in this fashion (and before finding more Soul Hearts) will kill you, including buying another Devil Room item that would give you Soul Hearts. However, if the item being bought is Dead Cat, and the player does not have enough health, the item will be obtained and one life from those generated will be used to cover the 'debt'.

Eternal Hearts are ignored here; they won't save you when making a deal, and they remain when all your other Hearts are gone. Completing an Eternal Heart counts as a health upgrade toward the debt.

Items with Soul Hearts price can be purchased for free when the character is in an invincible state and has the number of Soul Hearts required. (Bug)
Several of these items can be found outside of the Devil Room.
If you get an opportunity to visit the Devil Room on The Womb 2, it will only have a trapdoor to the Sheol, identical to the one in the boss room. This Devil Room can spawn before unlocking permanent access to Sheol by defeating It Lives.
NOTE. As of the halloween update, you can no longer abuse invincibility granting items to steal from the devil. Becoming invulnerable will cause you to stay alive when buying more than you can afford from this room, but it will NOT remove the health cost.
NOTE. Doing a deal counts as damage, so you cannot do a deal if you want to get an achievement.
NOTE. There is a chance that Krampus (Alternate boss added on christmas update) appear in the room. In this case, there will be no items available to purchase, but you will be rewarded with A Lump Of Coal after the battle. This can be re-rolled, however, and will grant an item you would normally get from a Deal With The Devil.
NOTE. If you use the The Dice, the Items will change, but the cost of Heart Containers won't. (This means you can technically get any Item for 1 heart, granted you have have The Dice and some luck.)
NOTE. Eternal hearts are not considered in deals. If you have 1 heart, 1 eternal heart, and soul hearts, the deal will leave you with the eternal heart and any remaining soul hearts.
NOTE. The Devil Room will not appear after beating the very first level in any case. (Basement I or Cellar I)
NOTE. If the very first level is a large map (Basement XL or Cellar XL), the Devil Room may appear after beating the second boss.
NOTE. Temporary health boosts such as those from the XI Strength tarot card or Liberty Cap will not reduce the number of heart containers lost from a deal.
Probabilities
Edit
The basics: The Devil Room can spawn once you clear the level's Boss Room based on your accumulated probability. It cannot spawn in Sheol, although they can be accessed on those floors via Joker card, Curse Room teleport, or random teleport. If you get a Devil Room in The Womb 2 after beating Mom's Heart (before you beat Mom's Heart for the tenth time), you won't get any deals, but a trap door leading to Sheol. If you have beaten Mom's Heart at least ten times, there will spawn a regular trap door in the Boss Room after beating Mom's Heart and you don't have to find the Devil Room in order to get to Sheol.
Base probability = 1%
Add the following percentages:
Have a second Pentagram (Confirmed): +10%
Have Book of Revelations: +35%
Have Book of Belial: +25%
Killed 1 or more beggars in current level: +35%
Took no red heart damage in current level: +35%
Took no red heart damage on the boss: +35%

Then multiply by one of these:
Met the devil in the current level or the level before: 0.25
Met the devil two levels ago: 0.5
Met the devil three or more levels ago, or never during the current run: 1.0

The beggars in Arcades don't seem to count; devil beggars, however, do count. Killing more than one has no effect. Self-inflicted damage doesn't seem to count. (e.g. Razor Blade, Kamikaze!)
The strange/unimportant rules:
You just came out of the Devil Room: +99%
You entered the Devil Room two times on the current level OR the room didn't appear once you killed the boss: probability = 0%
Once you spawn a Devil Room, there is a 10% chance that Krampus is there instead (only once per playthrough).
You cannot see a devil room if you defeat Mom in the Depths 2. But if you teleport out of the room (even using the Emperor tarot card), you may gain access to the devil room (if it had spawned), since the boss room layout changes to the normal one (no sealed exit).
Devil items
Edit
For the "cost" section of the following table, HP = Heart container. All items may also appear at the cost of 3 Soul Hearts per regular heart container instead of their normal cost. When playing as ???, all items will cost 3 Soul Hearts.
Note that if you have the trinket Judas's Tongue, all items will only cost 1 heart, but only if you open up the Devil room while holding the trinket. (Soul heart trades, however, are not affected, meaning Judas's Tongue is useless for ???.)
Item
Icon
Effect
Price
The Book Of Belial

Doubles damage until you exit the room.

1 HP
Book Of Shadows

Grants invulnerability for a short time.

1 HP
The Book Of Sin
1 HP

Changes tears to a chargable laser that pierces all objects in its path

It can only be fired after a short charge-up period

2 HP

Follows Isaac around shooting normal tears.

1-2 HP

Gives Isaac's shot a chance of poisoning enemies for a few seconds and turns tears green.

1 HP

Your HP is set to 1.

You are followed by a floating cat head and have 9 lives (these still count as deaths on the statistics screen).

You can increase your max HP as normal, but after each death it will reset to 1 again.

2 HP

Follows Isaac and automatically fires at enemies in its reach.

2 HP
Doctor's Remote

Sets a big red target on the ground which can be controlled with the arrow keys.
After several seconds, a huge explosive missile hits it.

1 HP
Forget Me Now

When activated, the level ends and is freshly regenerated with new rooms, monsters, and items. Disappears after use.

1 HP

Isaac can fly over all obstacles, including damage floors, spikes, rocks, and pits.

2 HP

All pills picked up will have positive effects (same effect as the PhD but without pill identification). Increases the chance of getting items from piles of poo and fires. Increases the chance of winning the Skull Challenge in the Arcade room from 33% to 50%. Increases the chances of getting items from gold chests.

1 HP

Increases Damage by 2 and adds one soul heart.

2 HP

Once collected, Isaac no longer shoots tears, he shoots a knife in boomerang style. The range of throw increases by charging the shot.

Can also be used as a melee weapon while not fired.

1 HP

Increases damage based on the number of coins the player has at the moment.

1 HP
Monster Manuel

Summons a random familiar for the current room only.

1 HP
The Nail

Turns Isaac's body black with twisted horns.

Adds one Soul Heart and allows the breaking of rocks by simply walking over them.

Increases damage by 1 and decreases speed by 1.

2 HP
The Necronomicon

Damages all enemies in the room significantly.

1-2 HP

Increases speed by 1, increases Tears to maximum while reducing projectile damage by 1.

1 HP

Allows Isaac's shots to go through rocks or obstacles.

1 HP
The Pact

Increases Damage by 1 and rate of fire by 2. The player also gains 2 soul hearts.

2 HP

Makes the Isaac's tears split in two when they hit something.

1 HP

Gives you 25 pennies.

1 HP
Razor Blade

Deals a certain amount of damage to self, in exchange for increased damage in the current room.

1 HP

Follows Isaac around shooting blood tears.

1 HP

Boosts Isaac's damage by 1 and grants you one heart container.

1 HP

Gives Isaac a laser shot with unlimited range.

Shots pierce enemies but not rocks, fire, or poop.

Shots can't be angled, and will not provide knockback.

1 HP
We Need To Go Deeper!

Creates a trap door to go to the next level.

1 HP
If Isaac has only half a heart damage is increased by 3 and speed by 2.
2 HP
Yum Heart

Restores 1 whole heart.

1 HP
Wrath of the Lamb DLC
Edit
| | | | |
| --- | --- | --- | --- |
| Item | Icon | Effect | Price |
| | | Spawns 2-4 Blue Flies to damage enemies. | 1-2 HP |
| | | Removes one Heart Container in exchange for gaining 3 Soul Hearts. | 1 HP |
| | | Grants Isaac flight and spectral tears. | 2 HP |
| | | Increases damage each time Isaac kills an enemy for the current room. | 2 HP |
| | | Isaac randomly shoots teeth instead of tears, dealing more than triple damage, the extra damage can go over the damage limit allowing you to deal triple the max damage. | 1 HP |
| | | Increases chance of gold chests and normal chests. | 1-2 HP |
| | | Dagger orbits Isaac, very high damage. | 1 HP |
| | | Randomly changes all Pickups in the room. | 1 HP |
Rooms
Treasure Room ·

Shop ·

Secret Room ·

Arcade ·

Boss Room


Challenge Room ·

Devil Room ·

I AM ERROR
Rooms in the Wrath of the Lamb

Curse Room ·

Sacrifice Room ·

Super Secret Room


Boss Challenge Room ·

Library ·

Angel Room