Death
Talk

1
420pages on
this wiki
"
And I looked, and behold a pale horse: and his name was Death, and Hell followed with him.
"

–Revelation 6:8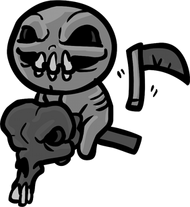 Attacks:

Summons homing scythes

Uses The Hourglass

Seperate Stickhorse charges (contact damage)

Spawns Knights

Unlock:
Defeat Mom for the first time
Death is one of the four Horsemen of the Apocalypse. He is a boss which can be encountered at the end of The Womb and Utero 1 once the player has beaten the game for the first time (killed Mom). He looks like an eyeless, gray humanoid-like being with a skinny, pale grey body and a hollow skull, riding a skeletal stick horse. His blood is also completely black. He will surround himself with the Grim Reaper's trademark weapon: the scythe.
This boss has two main phases:

Death, like all of the horsemen, leaves the Cube of Meat upon defeat.
Alternative Colors
Edit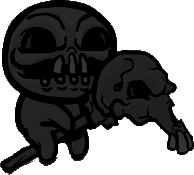 Black
: Is slightly larger and has more health than normal Death. He always spawns 4 scythes and instead of using the Hourglass, he spawns two
Kamikaze Leeches
. While separated from his horse, he periodically spawns two
Red Maws
instead of Knights.