Creep
Talk

0
420pages on
this wiki
Creep is a fluid produced by various Monsters and Bosses and comes in many colors.
Isaac can walk over it similarly to Spikes, but likewise will also suffer from a disadvantage.
Usually, touching most types of creep will inflict half a heart of damage. Black/White Creep does not hurt the player and instead slows him down.
Creep doesn't affect flying characters.
Types of Creep
Edit
The Red Creep
Edit
Red Creep (also commonly referred to as blood) is the most common type you will find throughout the game. It is recognizable by its glowing nature. It is left in trails by the enemy Brain, as well as dropped by a few bosses such as the explosions from the Headless Horseman and Mom's Heart/It Lives or the trail from the Blighted Ovum, Super Lust and The Bloat.
Don't get this confused with the simple blood that monsters may leave, as this one is far more dangerous.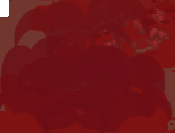 The red creep damages the player for one half heart (one full in Womb/Utero or lower) of damage if you step over it.

The Green Creep
Edit
This creep is encountered on some bosses that often are poisonous and as well as encountered on monsters that are green, such as Pestilence, and Ultra Pride
The only creep that cannot be seen with it's liquid form on the ground.
The damage is low, and is essentially just a recolor of the red creep.

The White Creep
Edit
Evacuated as a puddle by Widow, a champion version of Pestilence, and The Wretched.
Spawned along with a Sack.
Does no damage, but it does slow the player down slightly.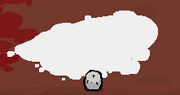 The Yellow Creep
Edit
Yellow creep (also commonly refered to as urine) can be found when fighting the boss Peep. Because of its yellowish color and Peep's name, it is most likely urine. An item that uses yellow creep is Lemon Mishap, which has the same effect but damages enemies and is in a more concentrated area.
Damages player moderately, essentially the same as red creep.
The Black Creep
Edit
This creep (also commonly refered to as tar) slows you down and it is only used as an attack by the boss Gish.
Black creep is also used by the black champion version of Widow .
This creep does NOT hurt the player, but it does moderately slow the player down.
The Blue Creep
Edit
Blue creep (also commonly refered to as holy water) is another different colored version of red creep. It is left behind by the item Holy Water and only damages enemies.