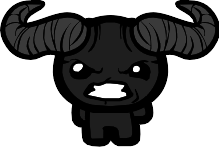 "
Then the Lord rained upon Sodom and upon Gomorrah brimstone and fire from the Lord out of heaven;
"

–Genesis 19:24
The alchemical symbol for sulfur.
Effect
Isaac appears demonic with large curved horns and an angry expression.
Picking up Brimstone will multiply Isaac's current damage by 3.
Changes tears to a chargeable laser that pierces all objects in its path (including enemies, environmental hazards and walls). It can only be fired after a short charge-up period (approximately 1-2 seconds until Isaac's head begins flashing red). Each laser is emitted for about one second and hits twice, so it is possible to destroy some two-stage enemies in one shot (Globins and Hives along with the flies they spawn on death), or to strafe the shot over multiple enemies.
It is possible to charge before entering a room so that the first shot can be fired immediately. Even if you have not finished charging Brimstone when you pass through a door, it is always fully charged once a new room is entered if the fire button is still being held.
Notes
Interactions
Synergies
Gallery
Trivia
Bugs