Brain
Talk

0
420pages on
this wiki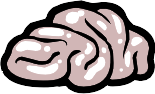 Brains are slug-like creatures that will slide randomly around the room leaving a trail of glowing blood that will damage the player if touched. As of Wrath of the Lamb v1.45, Brains do 1 heart of damage, both when touched and with their creep. The blood left behind can be flown over, using items such as Lord of the Pit, Holy Grail and Transcendence. Brains usually spawn in a room in multiples, or with other monsters. Alongside other enemies, if the player doesn't have a flying item such as Transcendence, they can get you trapped easily. However, Brains themselves can get stuck in the corners quite easily.
Champion Varieties
Edit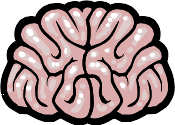 The MemBrain is a monster which can be rarely encountered in The Depths and more commonly in The Womb and The Chest. As such, it will always deal one heart of damage. It is also very large and is one of the most durable monsters in the game. When the MemBrain suffers enough damage, it splits into two regular Brains.
Unlike regular Brains, it leaves no harmful trails behind and moves slowly. Its primary form of attack is to jump and shoot eight big red projectiles in all eight directions upon landing on the floor. Similar to the Mama Guts.
MemBrain is a portmanteau from the words Membrane and Brain: It is the seperating layer of two Brains.