The Blighted Ovum
Talk

5
420pages on
this wiki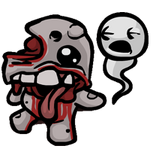 Official artwork by Edmund McMillen
Attacks:
Charges (contact damage)
Spawns Red Creep
Blood beam (smaller sibling)
Radial blood shots (both, upon death)
The Blighted Ovum is the posthumous version of Gemini. It appears in the Catacombs levels and rarely in the Cellar. It has a higher chance of appearing if you have killed Gemini before.
The Blighted Ovum spawns already separated, similar to some champion versions of Gemini.
The full-grown part appears as a mangled and bloody zombie, with parts of the skull eaten away. It leaves behind a trail of Red Creep as he moves, which is harmful to the player. Unlike Gemini, it will constantly pursue the player, not stopping for breath. When attacking, the larger half increases in speed, items that decrease the player's speed (such as the Bucket of Lard or Speed Down pills) render the player more susceptible to harm.
Meanwhile, the other half appears as a spirit, and is passive unless approached by the player, in which case, it fires a blood beam at the player similar to Brimstone and the monster Vis. It tends to stay floating in the area it spawns in, not moving around much. The smaller one can't be damaged at all and dies immediately following its counterpart.
Upon death, each half shoots radial blood shots, similar to when Steven is killed.
If player killed by the blood that The Blighted Ovum leaves behind, on Isaac's Last Will, it will say that the player was killed by a Brain instead of The Blighted Ovum.

This happens with any form of creep.
In medicine, a blighted ovum is a pregnancy in which the early pregnancy appears normal on an ultrasound scan, but later no visible embryo develops. This likely refers to the smaller of the twins being dead (a spirit).
Its boss-screen artwork differs from the in-game sprite, as it has a beady, black eye and a grey body, while in-game, it is eyeless and has a blood red body.