Beginner FAQ
Talk

0
420pages on
this wiki
Let's fill this out with questions. Make it so.
Monsters keep killing me too quickly! How do I get more heart containers?Edit
There are a few ways of getting more heart containers. The first way is to find an upgrade item that increases your max HP. Such items can be found from Item Rooms, Shops, Beggars, or as a drop from a Boss. The second way is to find the pill for that playthrough that increases your HP. This can be difficult, as there are many pills, and only a couple will give you more heart containers. Another common way is more temporary: you can find blue hearts, called Soul Hearts, which will act like armor. These take damage first, before your actual health. You can not actually restore a soul heart though - once it's gone, it's gone. However, there is no limit to the total soul hearts you can gather. Finally, if you're brave, lucky, or have a bit of spare health already, you can donate blood. A blood donation machine has a small chance to drop a blood bag (destroying the machine), which restores 5 HP, and increases your max HP by one. A good tactic is to use it in an Arcade, as both of the other games in that room have a chance to dispense hearts to replace the ones you donate.
How do I enter the room with the swords over it?
Edit
These are known as Challenge Rooms. You must be at full health to enter. However, if you are below max health and have enough soul hearts to make up the difference, the door will open. Before version 1.15 of Wrath of the Lamb, it was also possible to enter through the closed bars while flying. Remember though, if you're not flying on the other side, you have to fight your way out.
How do I get across these gaps without a ladder?
Edit
Bombing a rock adjacent to a gap will blow the rock into the hole, plugging it and making a bridge. However, the bomb must be on the opposite side of the rock.
Passive collectibles that will allow you to fly over or cross gaps:
Activated collectibles that will allow you to fly over or cross gaps:
Additionally, Magneto will pull items across gaps to you.
How should I prioritize using Items, Keys, and Bombs?Edit
Conserve at least one key per level to get into treasure rooms.
Free items are much better than a few coins or having to buy items. If you have enough coins, and already have an active item you like, try using a key on the shop, because there's a high chance you'll be able to buy a key there. Keep in mind that opening a shop door runs the risk of fighting Greed and losing health and your key in vain. However, Greed can be good in a way if you can kill him efficiently without losing hearts you can get a lot of coins also items if you're lucky! Remember that there can only be one miniboss in a designated room per floor. So, if a miniboss is fought outside of the shop, Greed cannot be in there.
Keep bombs for entering Secret rooms, bombing X Rocks and for bombing the various slot machines and blood donation machines, you'll make much more from those as opposed to bombing chests or single coins.
How does saving work?
Edit
Since the game only contains a few levels per play through, you don't actually save your, "state". You save your achievements, secrets, unlocked characters and other unlockables. This means that when you exit to the main menu or you lose all your hearts, you start the game over from the beginning. Only in special circumstances are items retained on the next play through. Some unlocked characters are only saved if you beat the game with them.
When changing levels, the normal progress bar shows which level you are moving to next:
For information about the save data check: Save Data
When you have enough life and the item is useful for you, note that deals with the devil takes heart containers permanently, so be careful when making these trades. However, some items, like The Pact or The Mark, give the player health or soul hearts upon picking them up. This means that they may not cost as much as you might think.
Tips & Useful Things to Know:
Edit
The darker stones (marked with a faint X) that sometimes show up can be blown up (with a bomb). This yields items, such as bombs, soul hearts, keys, coins, the 'small rock' pickup or reveals a golden chest.
Destroying poop piles and extinguishing fire sometimes yields a coin or a random heart.
Early on, it's better to save your keys rather then opening up the shop door when you don't have enough coins to buy anything.
You can use bombs to destroy slot machines, blood donation machines, beggars and the shell game game NPC to get items from them. Bombs can be used to open regular doors (doesn't work for locked doors or challenge rooms) in a monster-filled room to escape if you can't handle it. However, when you return to the room, all of the enemies will respawn. Bombs can also be used to move items surrounded by spikes away from the danger. This does not work for items surronded by holes or pits.
You can use items that grant you invincibility including Book of Shadows, The Gamekid, My Little Unicorn, and The Chariot to use blood donation machines multiple times without losing health.
If you beat the boss on the current level with full health and there are extra hearts laying around, you can use a blood machine the exact number of times equal to the number of extra half-hearts. For example, if there are 2 full hearts and one half-heart, you can use the blood machine 5 times, collect the extra hearts and still have full health.
Having The Ladder, Transcendence, Lord of the Pit, or A Pony can protect you from any melee enemies if you stand over a gap. Keep these items in high priority to get, especially in later floors like The Depths where there are Knights and Mask + Hearts. The Bible and The Hanged Man can grant flight for one room as well. If you also have the Ouija Board along with a flight item, you can even fly over a rock and shoot enemies while immune to both melee and any non-piercing projectiles.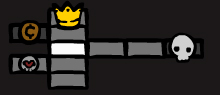 The secret room of each level is almost always in the space with the most adjacent rooms. For example, if the dungeon features a U shape, the 'hole' of the U will have 5 adjacent rooms and will be most likely to be the secret room. Using this tactic eliminates the need for X-Ray Vision or the Spelunker Hat.
How to setup a joypad for Binding of Isaac:
Download Xpadder- http://www.softpedia.com/dyn-postdownload.php?p=45445&t=4&i=1
Recommended Settings:
w, a, s, d - Move up, left, down or right. Set to Directional Pad and L3.
↑, ←, ↓, → - Shoot up, left, down or right. Set to R3 and 4 buttons.
space - Use current activated item.Set to R1.
shift, e - Set to L2 and R2.
q - Use single use item, either a tarot card or a pill. Set to L1
p - Pause the game. Note that when paused, p resumes while esc offers to quit. Set to Start.
f - Toggle fullscreen. Set to Back/Select.
Example control scheme: