This article is for the character. For the item named after the Biblical demon's another name, see Abaddon.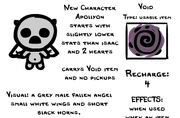 Apollyon
is a playable character in the upcoming
Afterbirth †
DLC for
The Binding of Isaac: Rebirth
.
Trivia
Apollyon is another name for the Biblical demon of the bottomless pit Abaddon.