A Pony
Talk

2
420pages on
this wiki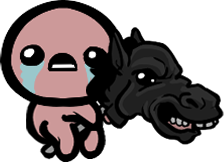 Collection Grid:
(B,10,2)
A severed horse head attached to a stick with a grim look on its face as well as body parts still coming out of its neck.
A Pony is unique as an item as it gives passive effects as well as being an activated item. Upon pickup, Isaac's speed will increase by 2, he will get on the Pony and be able to fly over creep, rocks, etc,.
Upon activation, Isaac will charge in the next direction he goes, with invincibility.
The 'pony' is actually a hobby horse, and has once been a common toy for small children.
Every Horseman is riding a hobby horse.
If the pony is used but no directional keys are pressed, the player is invincible until moving. This can be exploited as touching enemies damages them or with ranged Items like Epic Fetus as the player can use the mouse to kill all of the enemies in the room, then deactivate the Pony. If the player needs to reposition while invincible, one method is to drop a bomb, as bombs can still be dropped while the Pony is active. Another approach is to bait an enemy into moving the player, whether with their touch or their attack.
Can be used to use Blood Donation Machine without taking damage.
If picked up and then put back, can be re-rolled with the D-6
If the red patch is activated Isaac appears as a floating head similar to the effects of the pinking shears (his skin is still removed)
Moving upwards while carrying A Pony with ??? will show the item's sprite instead of ???'s body.