Ad blocker interference detected!
Wikia is a free-to-use site that makes money from advertising. We have a modified experience for viewers using ad blockers

Wikia is not accessible if you've made further modifications. Remove the custom ad blocker rule(s) and the page will load as expected.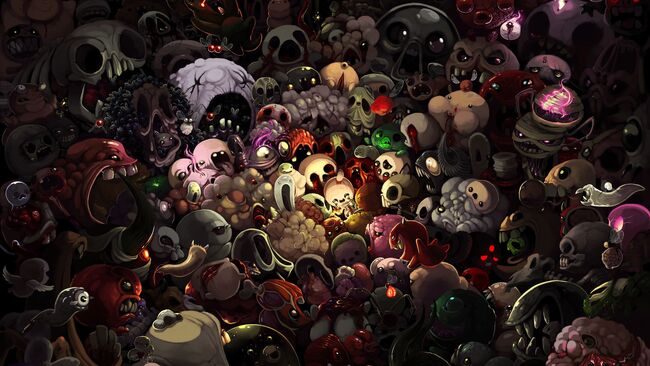 Welcome to the ultimate encyclopedia on the famous indie game The Binding of Isaac: Rebirth, the remake of the original The Binding of Isaac game. Be mindful that the Wiki may contain major spoilers and may be unmarked.

The Wiki is founded since September 28, 2011 just when the original TBoI game came out.
Anybody from the basement can help!

For the article containing all information from the original game, click here.

For the sister encyclopedia on the game's spin-off The Legend of Bum-bo, visit here.

Explore everywhere in the basement...


The Binding of Isaac is a dungeon-crawl, rogue-like indie game with Zelda-styled gameplay created by Edmund McMillen and Florian Himsl. It was first released in September 28, 2011. The game's plot is loosely based on the Biblical story of Abraham and Isaac. This game also touches on themes including religion, children, and mothers. The game's Rebirth remake was released on November 4, 2014, featuring huge tons of new features and changes.

This Wiki seeks to itemize and categorize all of the items, trinkets, rooms, monsters, bosses, secrets, achievements, characters, and everything else.


Action-Adventure Games
Go to these sites for info or for help with your own wiki!
Assassin's Creed • Bayonetta • The Binding of Isaac • Devil May Cry • Dragon's Crown • Driver: Parallel Lines • Fran Bow • God Eater • Grand Theft Auto • Just Cause • King's Quest • HITMAN • L.A. Noire • The Last of Us • Legacy of Kain • Legend of Zelda • LEGO Dimensions • LEGO Games • LEGO Marvel and DC • The Longest Journey • Mafia • MediEvil • Metal Gear • Monster Hunter • Ninja Gaiden • No More Heroes • Prince of Persia • Quantum Break • Red Dead • Senran Kagura • Shenmue • Sleeping Dogs • Space Quest • Splinter Cell • System Shock • Titanic - Adventure Out of Time • Tomb Raider • Uncharted • Watch Dogs • Yakuza
Want your community included? See how!


0
The Binding of Isaac Wiki

Before entering the chat, please follow these simple rules - Chat Rules.
Join the Chat>

Want to discuss or ask something? For any questions, discussions or anything else check out our
Forum
!

Are you excited for the upcoming 2nd DLC for Rebirth?
If you want to see more previous polls, click
here
.


Keep on a look out for recent news from Edmund McMillen and his team by visiting their official website here.