Welcome to the The Binding of Isaac Wiki
Games
What is The Binding of Isaac?
This wiki seeks to itemize and categorize all of the Items, Trinkets, Rooms, Monsters, Bosses, Secrets, Achievements, Playable Characters and everything else in Edmund McMillen and Florian Himsl's game, The Binding of Isaac.
Content
New?
If you are new to wikia we recommend you to check out the following articles:
Want to discuss or ask something?
For any questions, discussions or anything else check out our Forum!
Join our Chat
Join the Chat
Featured article



The Harbingers
Featured Video
Northernlion + Bisnap intreview with Edmund about Rebirth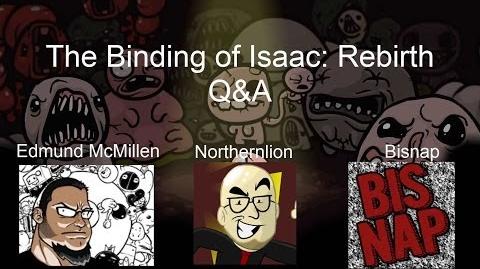 Click here for a summary of the interview.
Poll of the week
Activity Feed
Newest articles
These are the newest articles that have been added. Please ensure that they are named properly and do not duplicate any existing articles.
Loading RSS data...
*Please note - Even unregistered users are subject to Wikia's terms of use. Unregistered Contributors by editing are subject to this wiki's policies. All users are advised to acquaint themselves with both of the above.